ArtYard is an incubator for creative expression and a catalyst for collaborations that reveal the transformational power of art.
We are an interdisciplinary alternative contemporary art center comprised of an exhibition space, theater, and residency program, dedicated to presenting transformative artwork, fostering unexpected collaborations, and incubating original new work.
In 2005 ArtYard began its life as a series of experiments in an unheated former dairy barn in Jill Kearney and Stephen McDonnell's Bucks County, Pennsylvania backyard. Over the next decade, Jill and Stephen organized literary, music, theater and dance events on the improvised stage before crowds of  friends invited to perch on stackable chairs.
After a decade of joyful mayhem, Jill and the artist Elsa Mora began exploring the possibility of formalizing these adventures in a space that might have such luxuries as plumbing and heating. In 2015 ArtYard was incorporated as a 501(c)3 non-profit arts center. The founding team fastened on a former electronics warehouse and  abandoned egg hatchery located a few hundred yards apart in the congenial and walkable town of Frenchtown, New Jersey. These buildings were perched on the Delaware River, a little more than one hour's drive from Philadelphia and Manhattan.
The venture was named ArtYard, evoking the idea of an unpretentious place, a yard as opposed to a museum, a space where culture and community are planted, nurtured and grown. Inspiration was drawn from the Contemporary Art Workshop in Chicago (founded by Kearney's parents,) from the Fine Arts Work Center in Provincetown, and from Mora's eclectic and wide-ranging arts education in Cuba.
Other influences include Peter Schumann's Bread and Puppet Circus, MASS MoCA, and Robert Putnam's brilliant book, Bowling Alone, a chronicle of the siloing of American culture, the waning of everyday encounters between disparate groups, and the attendant loneliness and decline in social mobility which ensued. Putnam's book suggests that the arts are one of the last remaining means of engendering meaningful encounters between people from disconnected communities. With its curated exhibitions, programming and communal celebrations, ArtYard from the outset aimed to nurture a web of creative connection.
ArtYard's Inaugural Hatch
On September 4th, 2016, a festival, the Hatch, announced ArtYard's presence to Frenchtown: a giant egg cracked open, unleashing a flock of puppet and costumed birds from the derelict hatchery's loading dock, a celebration of creative incubation and ArtYard's mission statement: "ArtYard is an incubator for creative expression and a catalyst for collaborations that reveal the transformational power of art."
The ArtYard team set about curating art exhibitions and an unfurling program of theater, music, poetry, film and "Crankie" making, a communal storytelling process that Jill encountered while apprenticing at Bread and Puppet. With a staff in the single digits and a small low-ceilinged theater equipped with scrounged equipment, ArtYard hosted  ninety three events in its inaugural year.  As ArtYard matured, staff expanded and programming grew to include workshops and artists talks. A five- bedroom residency building was acquired at 50 Trenton Avenue to house visiting artists.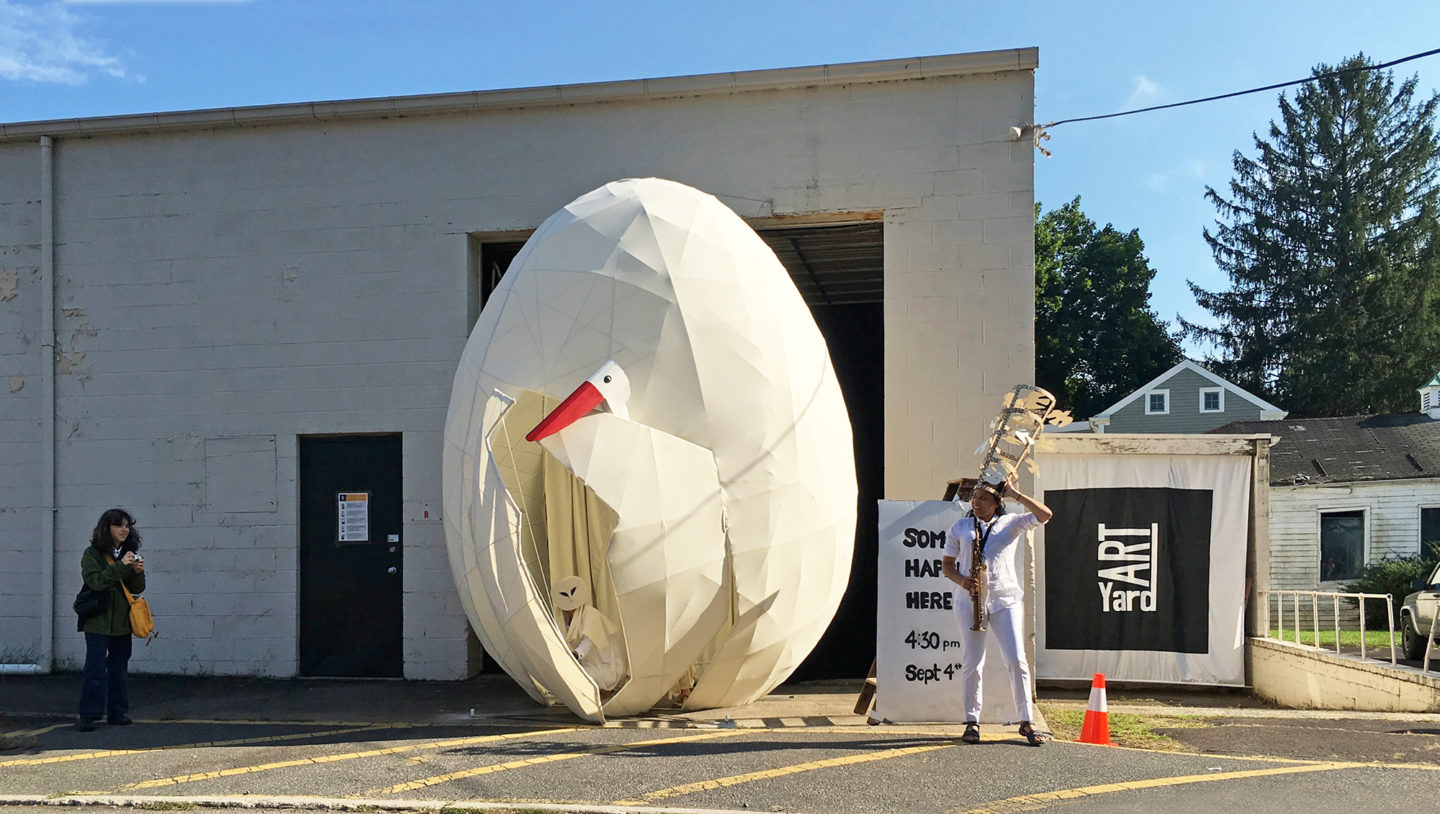 Since that first Hatch, established artists, musicians and writers have shared the galleries and stage at 62A Trenton with emerging and local artists, some of whom were receiving their first opportunity to perform or engage with an audience.
Artists in their ninth decade, young artists in their first forays and musicians from around the world have crossed paths here. ArtYard premiered an original chamber opera written by a local composer, and on another occasion offered the stage to an emerging poet who had attended Ross Gay's poetry workshop. Another wildly original evening involved the poet Sasha Styles and Bina 48, an artificially intelligent being, and the first sentient robot of color.
Thanks to the generosity of founding board member and Applegate Farms founder Stephen McDonnell and a gift from the estate of Jack and Lynn Kearney, ArtYard was able to engage architects Ed Robinson and William Welch to design an art exhibition and theater complex to rise on the hatchery site in the center of Frenchtown.
This approach allowed ArtYard to continue operation in its provisional location until the new building was completed. A second iconic five-unit residency building at the foot of the Frenchtown bridge was purchased in 2020. The nascent residency program will foster collaboration with like-minded arts organizations, offering visiting artists live/work space to incubate new work, and will strive to provide Frenchtown with opportunities to observe and/ or partake  in the creative process by participating in workshops, open rehearsals, artists talks, performances and art installations.
In 2020, ArtYard endured the Covid crisis and pivoted to a range of virtual and outdoor programming while construction continued, delayed but not defeated by closures and supply chain challenges. ArtYard's state-of-the-art new building at 13 Front Street opened in May 2021 with the inaugural exhibition, Girl You Want, curated by J. Vanessa Lyon.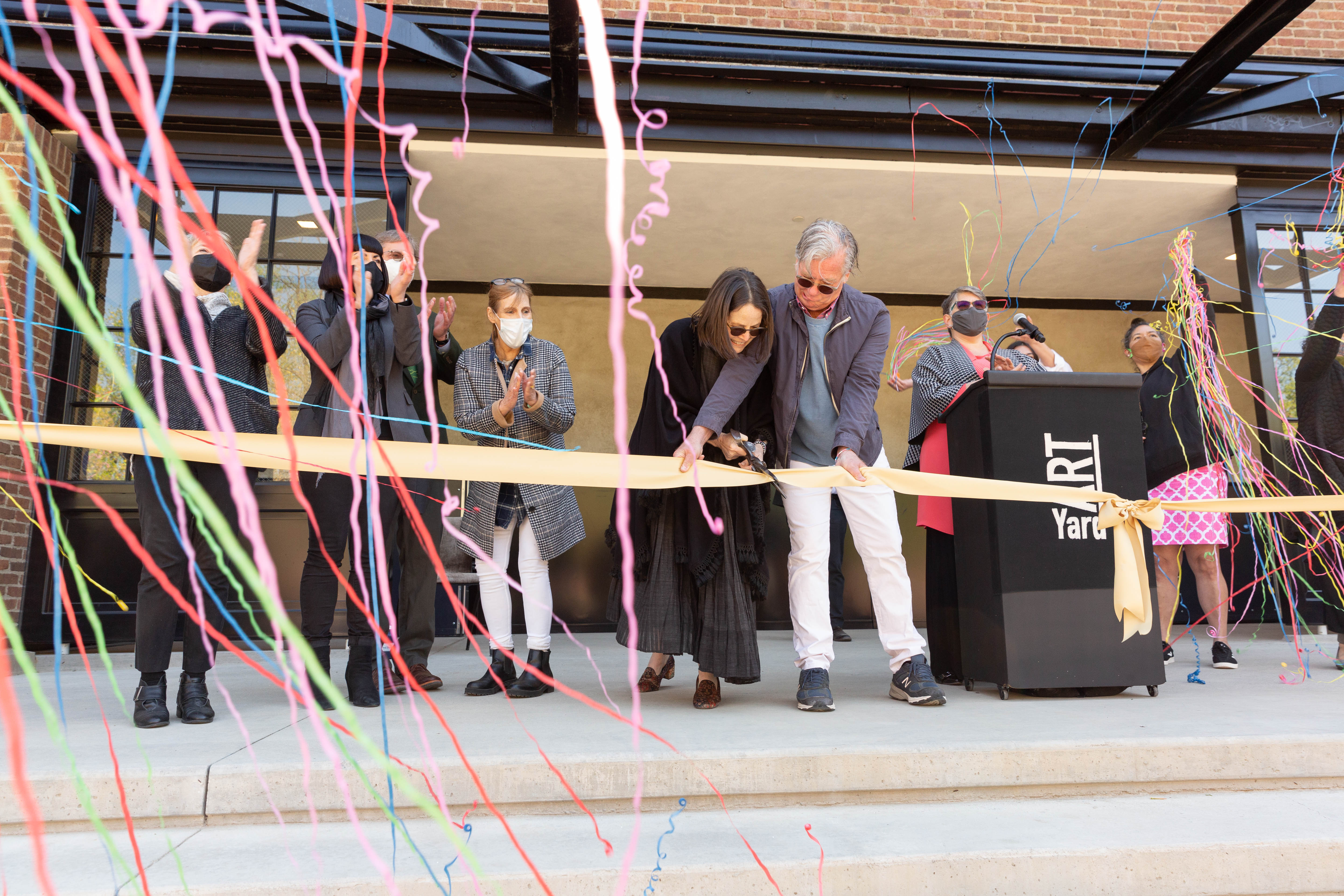 At ArtYard we believe a diverse, inclusive and equitable workplace and organization is one where all employees, trustees, volunteers, artists, curators and visitors, whatever their gender, race, ethnicity, national origin, age, sexual orientation or identity, education or disability, feel valued and respected.
We are committed to a nondiscriminatory approach and provide equal opportunity for employment and advancement in all of our departments, programs and worksites. We respect and value diverse life experiences and heritages and aim to ensure that all voices are valued and heard.
We're committed to modeling diversity and inclusion for the entire arts industry in the nonprofit sector, and to maintaining an inclusive environment with equitable treatment for all. We also recognize the necessity of modeling commitment to equity, diversity and inclusion in our local community, and we embrace this responsibility.