Sebastienne Mundheim, White Box Theatre
White Box Theatre is a project-based visual and performing arts company founded by Artistic Director Sebastienne Mundheim whose multidisciplinary work integrates puppetry, dance, storytelling, and installation.
In 2022, ArtYard commissioned Mundheim to engage with the mystery of Kea Tawana during the course of a series of residencies which culminated community workshops; workshop performances of a new multidisciplinary performance featuring movement, puppets, storytelling, and live music, as well as an exhibition featuring puppets from and video documentation of the performance.
---
Kea and the Ark
Oct. 9 to 29, 2022; March 16 to 21, 2023; April 24 to May 7, 2023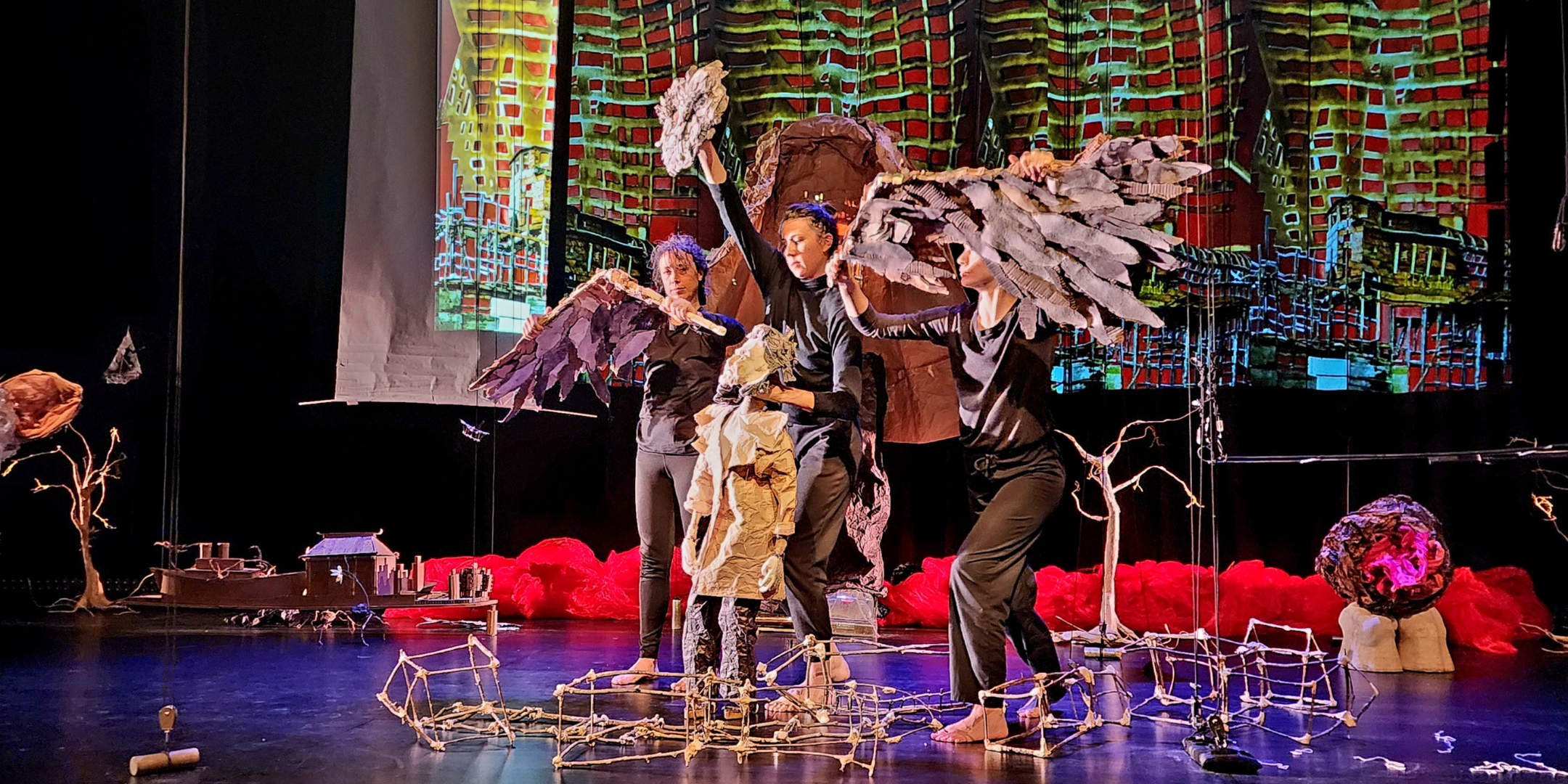 ArtYard supports the incubation of new work and commissioned White Box Theatre to engage with the mystery of Kea Tawana, a social activist, self-taught engineer, and ark-builder who made an 86-foot-long, three-story high ship from salvaged wood, stained glass, and other materials from abandoned buildings in Newark's Central Ward. Mundheim was in residence at ArtYard in October 2022 and held community workshops to investigate Kea's story through movement, writing, and object-making.
Mundheim continued her work in two spring residencies at ArtYard, culminating in a public event, sharing performance development, discussion, and workshops. ArtYard hosted two showings on May 6 and 7 of Kea and the Ark, a new multidisciplinary work investigating the life of Kea Tawana employing movement, puppetry, storytelling, and live music.
Kea and the Ark takes us from the Doolittle raid in Japan in the 40s, across the Pacific, to a Hopi reservation, into Newark in the 60s, and finally to the quiet of the Passaic River. Early ideas for this piece were developed in residencies at ArcheDream for Humankind, Theatre Exile, and The Painted Bride. Currently White Box Theatre is in residence at the Latvian Society of Philadelphia.
Collaborators include Daniel de Jesus, Ain Gordon, Kennedy Candra, Harlee Trautman, Payton Smith, Peter Jacobs, Christianne Ebel, Elizabeth Jacobs, Eppchez Yes, and Caitlin Thompson.
Following the performance, ArtYard hosts Kea and the Ark, an exhibition on Kea Tawana including works in paper, film, music on view in its second-floor Laboratory Gallery. It is on view through Sunday, July 23.
"Kea moves from island to island — from one group of people to another, people who are pushed aside. I say 'island,' because there is both isolation, and very specific cultures through isolation. She collects, she builds." — Sebastienne Mundheim