Our biennial Hatch is a celebration of creative incubation and community, featuring large-scale bird puppets, a 14-foot egg, storytelling, live music, and public exuberance. For every Hatch, the public is invited to construct bird costumes and to join disparate community members to hatch out of a giant egg and march joyously through Frenchtown.
In September 2016, ArtYard announced its presence by hatching a flock of giant bird puppets out of a 14-foot-tall welded-steel egg perched on the edge of a derelict former egg hatchery located at the foot of the Frenchtown Bridge. The act of hatching was a nod to Frenchtown's past as a 20th-century hub of egg incubation, and to its future as an incubator of creative artistic enterprise.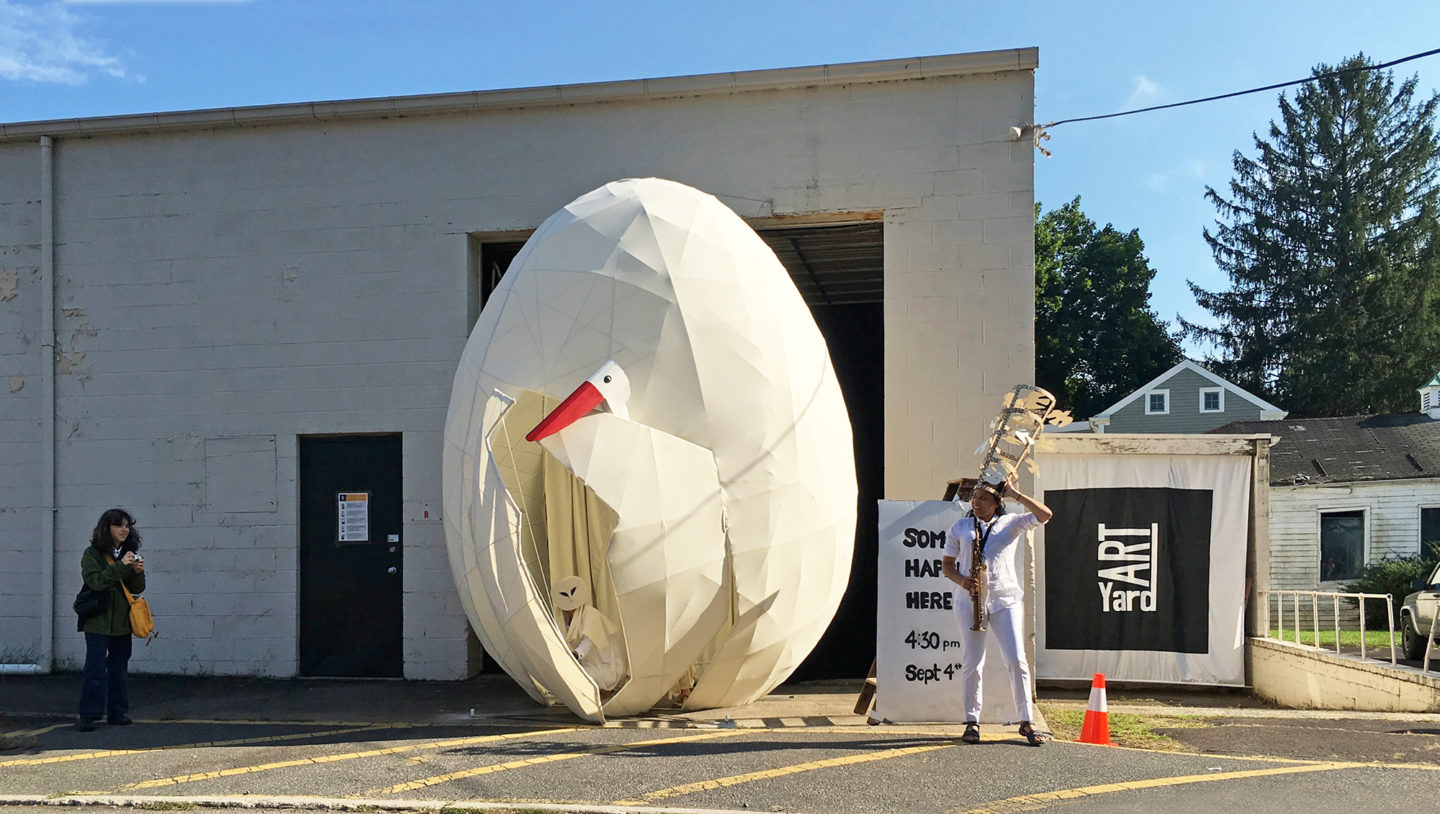 The first Hatch began with a series of puppet-building workshops and was heralded by a lone saxophone player, "Sweet" Lee Odom. Odom led the parade of white birds to the opening of ArtYard's first exhibition, an installation of mirrored pillars by Canadian artist Bruno Bilio, and Murmuration, a collaborative project by ArtYard's Elsa Mora and Jill Kearney.
ArtYard's second Hatch engaged Italian composer Camilla Uboldi to create an original score for a homemade collection of marching toy pianos, typewriters, xylophones, and drums. The Hatch culminated in raucous impromptu dancing inside the soon to be demolished building at 13 Front Street.
Since construction had commenced at 13 Front Street, ArtYard's third Hatch took place at the foot of the Frenchtown Bridge in Sunbeam Lenape Park. Accompanied by Brooklyn's Hungry March Band, a flock of puppet birds, chickens, and vultures marched to the new ArtYard site, where Sister Cities Girl Choir sang to the assembled crowd.
Due to the COVID 19 pandemic, ArtYard's fourth Hatch in the spring of 2020 transpired as a crowdsourced virtual event with participants sending in hatch-at-home videos.
2022 Fifth Anniversary Hatch
Save the date for the in-person return of Hatch: Saturday, June 25, 2022. At this year's Hatch, the procession will be led by Ocean Avenue Stompers, a New Orleans-influenced brass band. Artist Laura Bernstein and 10 collaborators will also unfurl their Miracle Tapestry Project. Panels of 12-foot-tall,hand-sewn fabrics chronicle the first 12 months of Covid-19 in the artist's life. Bernstein and the artists will also share a collective poem written in embrace for finding joy in the natural world despite its perilous future.