ArtYard hosts a series of communal storytelling events known as Crankies. They represent the reinvention, pioneered in large part by Vermont's Bread and Puppet Theatre, of the pre-cinema narrative technique of Cantastoria, a tradition in which spoken or sung stories accompany moving images painted on banners or scrolls.
Crankies are uniquely suited to ArtYard's mission of fostering artistic collaboration between visual artists, musicians, poets, and humans of varying stripes. This is a living and breathing folk performance practice that holds its own particular place alongside the technology and media of the 21st century.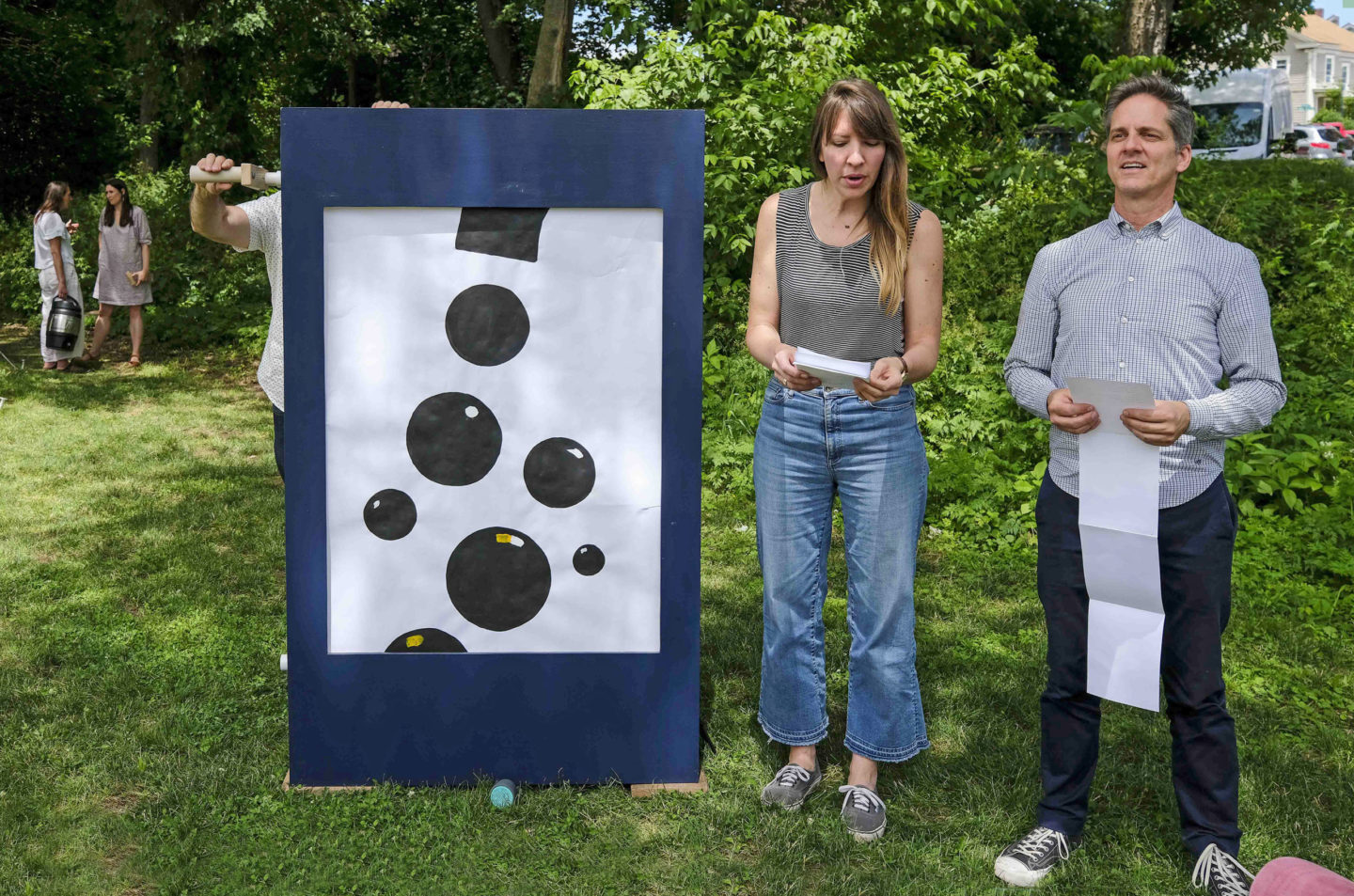 In November 2017 ArtYard presented the Banners & Crank Festival, curated by Dave Buchen and Clare Dolan, a three-day celebration of cantastoria and crankie performance that featured the work of 10 artists from local and far-flung regions of the U.S.
Cantastoria is the Italian word for an ancient performance form involving the theatrical display of paintings accompanied by sung narration. A precursor to modern puppet theater, this practice originated in 6th Century India and spread East and West, with many different variations in style and subject matter.
The use of the crankie (a sister to the cantastoria in which the images appear on a scroll which is turned by means of a crank) has also lately grown popular among folk musicians and artists looking for new ways to perform their songs and display their artwork in a performance context. Banners and Cranks is committed to the concept of a nomadic festival, both because it is in keeping with the historic itinerant roots of the performance form, and also because they hope that the fest will reach new audiences of makers and thinkers who have never seen cantastoria before, inspiring the uninitiated to take up the form and invent fresh approaches to the magic of the crankie and the picture story.
ArtYard's themed Crankie events have invited the public to enact Crankie performances in response to prompts that tie in with our current exhibitions.
For example, our 2018 Crankie event entitled Cranks Unearthed, was a response to a crowdsourced exhibition of unearthed objects from the Delaware River that accompanied the exhibition, The Memory Palace. This exhibition and accompanying Crankie event offered a meditation on collective memory, excavation and place, and celebrated Frenchtown's 150th year.
In March of 2019, ArtYard presented an evening of performance and storytelling by local artists, poets, and musicians from the Delaware River Valley community.
The event was part of our exhibition specific programming for The Creative Commons, an exhibition on view at ArtYard from January 12th through April 14th of 2019. The exhibition featured a short, mesmerizing black and white film entitled Questions, in which Creative Growth artist Susan Janow addresses the camera with a barrage of blunt, poetic and funny existential queries. Local artists were invited to use the theme, Questions, to inspire or inform a banner or cranky for our Crank Night event.