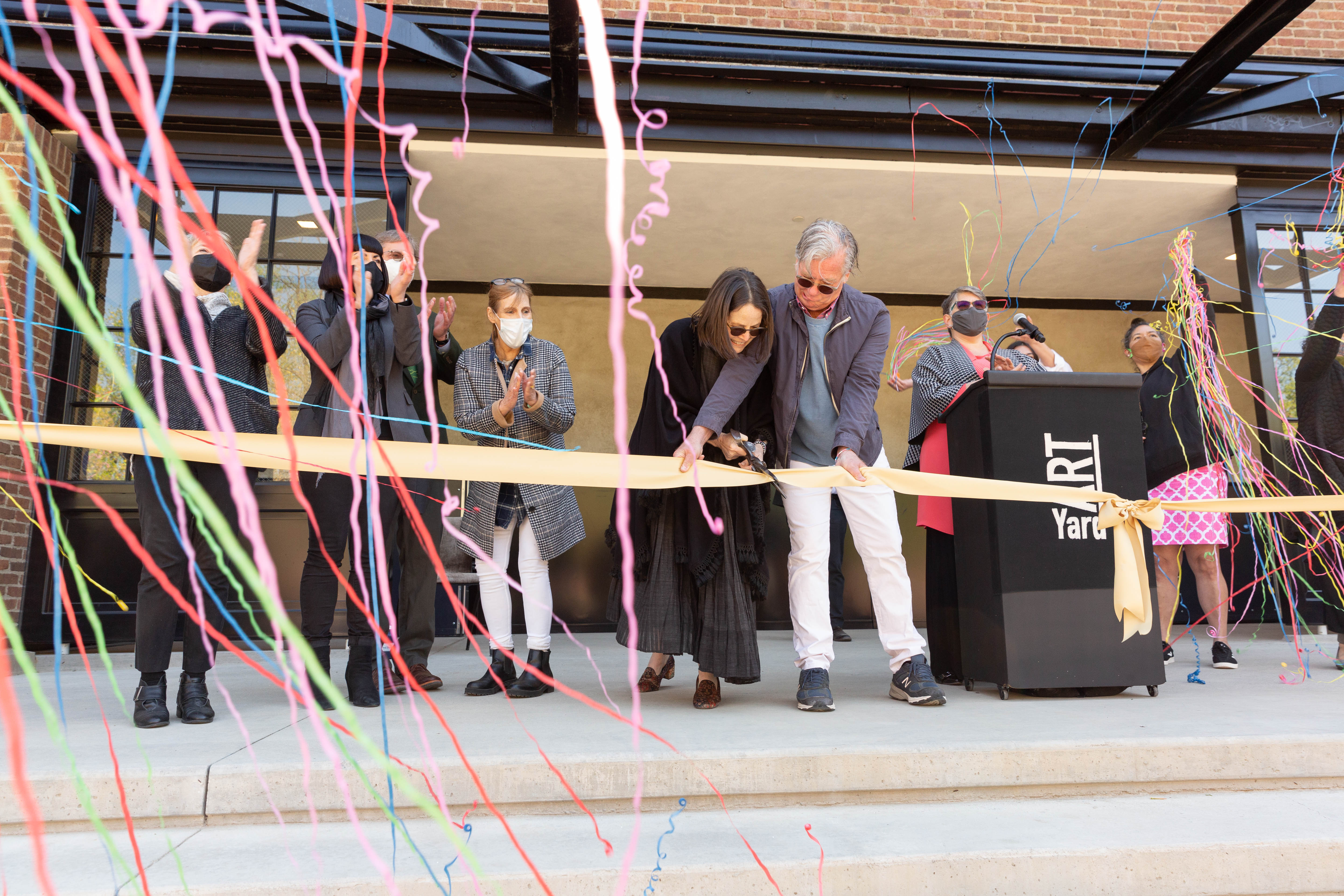 ArtYard, a nonprofit contemporary art center, is set to open its newly completed 21,000-square-foot home with two floors of exhibition space and a 162-seat state-of-the-art theater at a ceremony on May 1. This interdisciplinary art center is located in Frenchtown, NJ, a beguiling small town perched at the Delaware River's edge within a little more than an hour's drive of Philadelphia and New York that features bike paths, hiking trails, historic hotels, farm-to-table restaurants, and an emerging art scene.
With the inauguration of its new art center, ArtYard aims to create a welcoming communal resource and deploy the power of art to unsettle, engage, bridge divides and occasion moments of arresting beauty.
Three major exhibitions per year anchor a program of related offerings in theater, poetry, dance, music, and film, as well as idiosyncratic communal celebrations such as ArtYard's Hatch, a New Orleans-inspired parade of giant birds. An artists residency program is also in development and will launch in 2022 with an inaugural collaboration with the Baryshnikov Art Center.
Architects Ed Robinson and William Welch collaborated on the design of the new building, embedding a sophisticated modern art center within a structure that respects the architectural idioms of a once industrial town, at the site of the former egg hatchery, Kerr's Chickeries. ArtYard's Managing Director Kandy Ferree, with assistance from architectural advisor Bob Hsu, managed the project with builders William S. Cumby.
"The opening of ArtYard's new space will be the most significant economic catalyst Frenchtown has seen in decades," says Frenchtown Mayor Brad Myhre. "It will serve as a treasured arts and cultural resource for our community, Hunterdon County and New Jersey, attracting both visitors and permanent residents that will in turn benefit local businesses, restaurants, and the overall vitality of Frenchtown."
ArtYard originally launched in 2016, announcing its presence by hatching a flock of giant bird puppets out of a 14-foot-tall welded steel egg at the then derelict former egg hatchery. Since this inaugural Hatch parade, ArtYard has operated out of a nearby warehouse in Frenchtown at 62A Trenton Avenue, offering programs ranging from a locally composed chamber opera to an exhibition of works by neurodiverse artists from progressive art studios across the country, a solo show by the Peruvian artist Cecilia Paredes featuring a site-specific cloud made of wishes gathered from communities in Frenchtown and Peru, and poetry events that pair local poets with nationally recognized poets including Toi Derricotte, Ross Gay, Patrick Rosal, and Aracelis Girmay.
"We named ourselves ArtYard. We wanted to be an ordinary public place, a yard in lieu of a museum, where art is invented, ideas exchanged, relationships forged. We wanted to demystify art, to invite different communities to collaborate, and we committed ourselves to the notion that creative collaboration is a critical component of civic life," says Executive Director Jill Kearney, describing Kearney and ArtYard Artistic Director Elsa Mora's vision for ArtYard at its founding.
Amenities of the new building at 13 Front include:
Two floors of gallery space: The 2,632-square-foot Jack and Lynn Kearney Gallery on the second floor, named in honor of executive director Jill Kearney's parents, who founded and operated a nonprofit art center in Chicago for 60 years. A high clerestory runs the length of the room, admitting natural light. The gallery's tall west-facing windows overlook a large riverside courtyard suitable for sculpture installation and outdoor gatherings.
The lower-level River Gallery is 1850 square feet, with a 206-square-foot adjacent room, suitable for smaller installations and video projection.
The McDonnell Theater is named in honor of Stephen McDonnell, ArtYard board member, founder of Applegate Farms, and husband of ArtYard's Executive Director Jill Kearney. The theater has state-of-the-art projection, lighting and surround sound, a sprung floor to accommodate dance performances, and 162 seats including full accessibility. The seats have been repurposed from a theater in Durham, North Carolina, and refurbished by local artisans. The stage curtain, sewn from Revive fabric, is made of recycled plastic.
The art center also houses three Very Small Galleries, or VSGs, viewable by way of small portals secreted in the walls. These galleries contain miniature temporary installations created by commissioned artists. The inaugural VSG installation will feature works by the collaborative artist duo, Kahn & Selesnick.
The building is wheelchair accessible with a ramped entrance, push-button door operation, elevator, fully accessible restrooms, and designated theater seating.
ArtYard's inaugural year in the new space will feature two major art exhibitions: Girl You Want, opening on Saturday, May 1, a meditation on the gendering and racialization of girlhood curated by Bennington College professor and art historian J. Vanessa Lyon, and Going to the Meadow, a collaborative installation curated by Ulla Warchol and Robin Hill, in which teams of artists working with the same original materials will reinvent the exhibition repeatedly over a three-month span. The coming year will also feature an outdoor installation of monumental sculptures by the South African artist, Ledelle Moe, and a program of artists talks, performances, workshops, and films predicated on the theme of A Year of Mending.
The ribbon cutting ceremony for the art center and the opening of the inaugural exhibition, Girl You Want, will take place at 10:30 AM on Saturday, May 1.
Attendees at the Ribbon Cutting Ceremony will be welcomed into the gallery spaces between 11 AM and 1 PM in groups of 50 to allow for social distancing. For visits after 1  PM and for the duration of the exhibition, the public is encouraged to make a reservation at artyard.org to guarantee a desired time slot. The McDonnell Theater will be completed and opened for viewing in early summer, with limited programming due to COVID, and normal programming expected to resume in the new year.