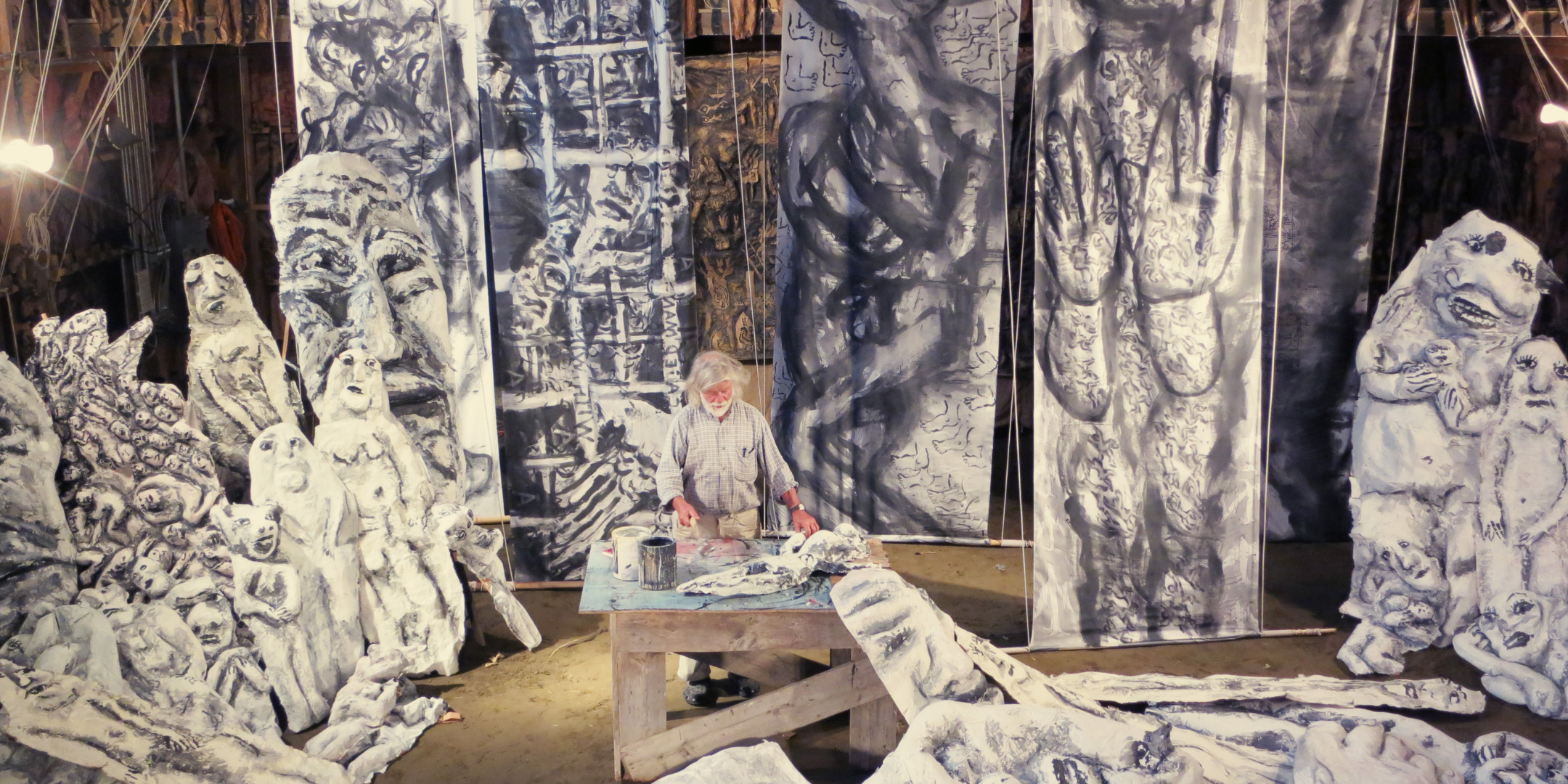 ArtYard is pleased to present Ecstatic Decrepitude, an exhibition featuring works by Bread and Puppet Founder Peter Schumann.
Nearly 60 years after Schumann founded the Bread and Puppet Theater on New York City's Lower East Side, it remains one of the oldest nonprofit, self-supporting theater companies in the country, leaving an indelible stamp on the world of theater and the American cultural landscape.
Ecstatic Decrepitude features masks, puppets, books, paper maché relief work, and paintings which convey Schumann's deep commitment to the creative and political work which unites artists and communities in celebration and protest. Curated by Clare Dolan, the exhibition opens at a reception the evening of April 30 at ArtYard and remains on view through July 31.
Ecstatic Decrepitude is the second exhibition of the year at ArtYard and comprises the upper-level John & Lynn Kearney Gallery and lower-level River Gallery.
"Ecstatic Decrepitude is presented on two stories. Bulky, big, oppressed and oppressive decrepitude obviously belongs upstairs, way above ecstasy, which hides in book pages and requires diligent reading on the first floor," Schumann says. "The faces, idols, agitators and sufferers of the Naked Humanity Republic get entertained by Father Time who strikes the clock for them relentlessly…"
Schumann's puppet shows range from tightly composed theater pieces presented by members of the company to extensive outdoor pageants which require the participation of many community volunteers. Guided by a philosophy of living and working within the means available, Schumann's aesthetic is inextricable from the paper maché, burlap, twine, and staples that make up and literally hold the puppets and the shows together.
"I first stumbled on Peter Schumann's work in a retrospective at the Queen's Museum," said Jill Kearney, ArtYard executive director. "There was something elegant in its crudeness, illuminating in its darkness, and articulate in its abstraction that moved me to tears. Soon after I drove to Vermont and volunteered as an apprentice. Peter is a force of nature, producing visual art, plays, pageants, circuses, theatrical protests, and loaves of bread at a joyous, outraged, ferocious clip."
In connection with the exhibition, Bread and Puppet Theater's Cheap Art will be for sale at ArtYard's Contrary Art Shop. An art practice that grew out of selling art out of a school bus for 10 cents to $10, Cheap Art is practiced by all kinds of artists and puppeteers all over, and continues to cry out: Art is Not Business! Art Is Food! Art Soothes Pain! Art Wakes Up Sleepers! Art Is Cheap! Hurrah!
ABOUT THE CURATOR
Clare Dolan is painter, director, performer, curator and intensive care unit nurse living in Northeast Vermont. As a puppeteer with the Bread and Puppet Theater for decades, she performed in cities and towns throughout the United States and internationally. In 2010 she created The Museum of Everyday Life, an ongoing multifaceted museum experiment whose goal is a slow-motion cataloging of life via ordinary objects of no monetary value, yet immense consequence. She is a specialist in picture-story performance (cantastoria) and the co-founder of Banners and Cranks, the first international American festival devoted to this performance form, which occurs annually in rotating venues.
ABOUT THE ARTIST
German-born American puppeteer and founder and director of Bread and Puppet Theater, Peter Schumann was introduced to puppetry and avant-garde theatre from a young age. His family experienced the dislocation and trauma of refugees during World War II. During Schumann's early years as an artist in post-war Germany he sculpted and danced. In 1961, Peter and his American-born wife Elka Schumann came to the United States. They quickly became immersed in the avant-garde arts scene in New York City. Schumann's skills and interest in dance and sculpture were combined in puppetry, and his bread baking and distribution articulated a utilitarian function of art practice synthesized with daily life.
ARTYARD
ArtYard is an incubator for creative expression and a catalyst for collaborations that reveal the transformational power of art. Based in Frenchtown, NJ, ArtYard is an interdisciplinary alternative contemporary art center comprised of exhibition space, theater, and residency program, dedicated to presenting transformative artwork, fostering unexpected collaborations, and incubating original new work.